If you think that learning the piano is easy, you're very wrong. For those of you who don't know, the piano has been proven to be the most taxing activity for the human brain. 
That's right; nothing will fire up your neuronal activities like the piano, which is actually pretty interesting and cool. 
If you don't learn the piano as a child, the process will be more complicated as an adult, so you might need help. This is why we decided to introduce you to the following smartphone app that's a real help.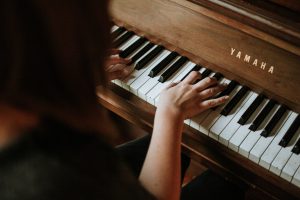 About Simply Piano
Finding the proper help in order to improve your piano learning process can be as difficult as the piano itself. Some teachers will not be able to catch your attention while books don't work for a lot of us. 
The best way to learn something new is by practicing it for as much as we can. That way, our muscle memory makes sure to store the actions that we repeatedly do. It works the same in any type of training the body and mind have to go through, even martial arts.
Simply Piano is a great help that comes in handy for beginners. Even for those who haven't touched a keyboard or a piano in their lives can benefit! The way this app works is similar to an AI system: it listens to what you're playing and acts just like a mentor.
This small feature makes it different from a lot of apps out there that simply give out lessons and wait for you to practice. It has a pretty good overall rating, and there are a lot of people that recommend this app with a lot of confidence.
Features
The app comes with a lot of interesting features and methods to help create a good learning experience for you. Like we've already stated, the piano is one of the most complicated tasks for the human brain since you have to use all ten fingers individually and your feet as well. If you're looking to start learning how to play from scratch, the app can get you to understand a few basics after only a few sessions. 
The app has over one million teaching songs, and it's an award-winning app. It was developed by JoyTunes, which is one of the best developers that has a pretty nice award count. The app comes with the possibility of you learning how to read sheet music, and it comes with a lot of great and popular songs for you to learn.
Don't imagine that you're going to play only classical music, because that's definitely not the case. This app has a lot of new pop songs included, which is a great way of helping students to learn how to play using their favorite songs.
The app offers a step-by-step guide to its users to teach them all the basic elements they need in order to play. It will train both-hands playing, and it also comes with the possibility of slowing down the tempo for you to learn at your own pace, which is one of the best features we've seen. This app will develop your finger control very efficiently and also train your sight-reading for you to be able to read sheets while playing altogether.
Getting the App and Pricing
The app can also be used for free for two courses. It also comes with the possibility of making a subscription, which will give users open access to all of their database of courses. Being able to use it for free is a great way of seeing if this app is right for you without having any costs included.
If you decide that it's a good way for you to learn, you can upgrade your subscription at any time. You can also cancel the subscription at any time if you feel like you won't be using it anymore. Android users can download Simply Piano from here, while iOS users should check out the Apple Store.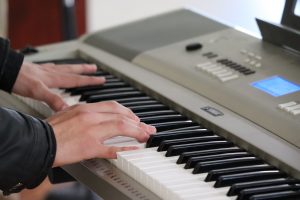 Summary
The fact that the piano is so hard to learn and play is a great challenge for anyone that wishes to master this fabulous instrument. Knowing how to play the piano brings a lot of great advantages to your brain and mental health. We would definitely recommend Simply Piano for any users that want to give the piano a try.