A new visual for My Hero Academia: Heroes Rising! surfaced online today, and according to this poster, Hawks will make his anime debut in the next movie of My Hero Academia. They may give Hawks debut earlier on TV in Japan, with a filler episode that will premiere on Dec 14th, the Saturday before the film's release, displaying him but without disclosing his ranking.
Hawks could end up being the cause anime fans will cave and read the manga. Those at the center in the visual will presumably end up being characters who need to be protected.

My Hero Academia: Heroes Rising! New Visual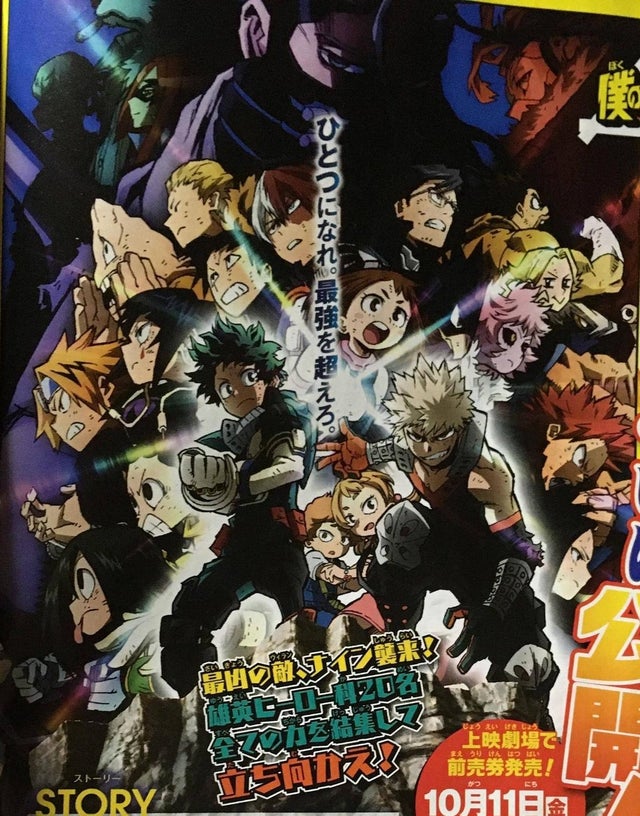 My Hero Academia: Heroes Rising! is going to mainly focus on Midoriya and Bakugo. This new visual shows a bright light behind Midoriya and Bakugo. They both have a clear outline around them, just additional stirring the point of them being the center. Horikoshi validated that he chose to do something in this film that he had formerly expected as something he'd do at the end of the manga. It's not that the film functions as the finale, only that something will occur that he originally planned to happen in the manga climax. It could be anything. A cameo from a character who is not introduced yet, a specific combo move for Midoriya and Bakugo, or a theme included that he was going to introduce at the conclusion.
My Hero Academia: Heroes Rising! new visual from r/BokuNoHeroAcademia
This movie will slightly be isolated from the story, but it will be a great deal if this much is being put into it. Fans loved the first movie, and this one is growing up to be even better. It is one of my most anticipated movies of the following few months.
Boku no Hero Academia Season 4 will start premiering Oct 12. My Academia: Heroes Rising! will release on December 20 in Japan. Set to be the second feature movie in the franchise, following last year's My Hero Academia: Two Heroes. The BONES animation studio is rejoining with series' creator Horikoshi on the project.

---
© 2019 Discover Diary All rights reserved. Do not copy without permission.