Demon Slayer Chapter 198 is around the corner and it is the perfect time to predict the events of it. Before that, let's talk about the previous chapter, it has shown us some amazing character development for Zenitsu. Both Inosuke and Zenitsu has grown so much in the earlier chapter and now became fan favorite.
Inosuke's monologue was epic in this chapter and to see him go from essentially a wild animal to shedding tears of fury at Muzan mailing his comrades was just awesome. Also, Zenitsu coming in the clutch to thunderclap those mouth tentacles was awesome. He's fully awake and basically the one who forced Tanjiro to get to business again which is a crazy role reversal for him and shows so much growth
Muzan sent some sort of attack through his blood that caused seizures to those he dosed within a range. That's why iguro and Tanjiro were stuck. Tanjiro has guessed the attack comes from Muzan's blood cells that were circulating, so he stabbed himself with his Nichiren blade to try to neutralize it.
Also, Read- My Hero Academia Chapter 264 Spoilers, Release Date, Updates
Read Demon Slayer 198 Spoilers
Up until a few chapters ago, Muzan has believed he's been in control. Only recently has he felt he has lost the upper hand and must rely on techniques he long ago cultivated and then shelved in order to survive. We will see some of his more techniques in Demon Slayer 198 which might give some fatal injury to our heroes.
According to AnimeFreak, Zenitsu and Inosuke have pretty good odds of surviving, and Nezuko is very close now. She'll likely make it to the scene in Kimetsu no Yaiba Chapter 198. Giyuu, unfortunately, seems to be in the lead in death flag ranking.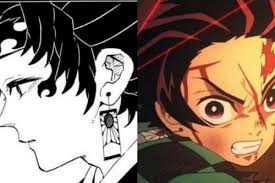 Muzan can barely stand up anymore and is also desperate, seeing so many people continuing to fight him despite they have more blood outside than inside. Looking at chapter 197, we can safely predict that Zenistu will join the fight against Kibutsuji Muzan in Demon Slayer 198. Fans are looking forward to witnessing the epic battle of the Trio (Tanjiro, Zenitsu, Inosuke) against Muzan.
Kimetsu no Yaiba Chapter 198 Release Date
Chapter 198 of Kimetsu no Yaiba is going to release officially on 15th March 2020. However, the leaks will be out 1-2 days prior to that. All the chapters of Demon Slayer: Kimetsu no Yaiba are available for free on Viz Media and Mangaplus.
Also, read- 10 Most Relevant Facts About Katsuki Bakugo [Kacchan]
Read Demon Slayer 198 Raw Scans
The raw scans haven't released online yet, they usually leak 1-2 days prior to the official release date. We know the official release date is 15th March, we can safely say that chapter 198 leaks will arrive tomorrow. When we receive the spoilers, we will update this article with a link to the source of the leak. So, make sure to visit again to read the updated article om DiscoverDiary.