Chapter 634 came out earlier and shown us that Ou Sen army finally caught up with the Ri Boku army. However, the later used some tactics to leave them behind and finally reached at the gate of Gyou, where Kanki is waiting. The previous chapter did reveal some epic panels and we can't wait to read Kingdom 635. So, in this article, we are going to discuss the events of Kingdom Chapter 635. Let me remind you guys, this post hold spoilers for the upcoming chapter proceed at your own risk.
Who is a better tactician- Ri Boku or Ou Sen?
According to Ou Sen, Ri Boku had better chances to win this war, if Ou Sen's army didn't have the trio. Ou Sen gave the credit of the victory to the trio. When Ri Boku's generals were slain, everything just when downhill. His most promising pawn, Futei didn't do anything, he couldn't even get past a half-dead Ou Hon.
This chapter manages to make us feel somehow sad for Ri Boku. He had a single plan as stated by Ou Sen in this very chapter – Defeat Ou Sen, break the siege and release Gyou. Every subplot that happened under the said plan was but a minor adjustment. At no point did Ri Boku show any sign of him feeling that not everything is going according to that grand plan.
We could argue that Ou Sen had a better plan because he knew he had Kan Ki waiting and he just had to exhaust Ri Boku's forces as much as possible which is why he didn't make any crazy moves and the army center never moved in the first week.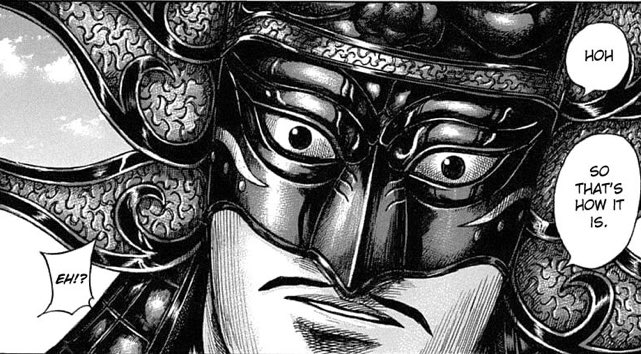 Moreover, Ri Boku couldn't send them food since Kan Ki besieged the city. By the time Ou Sen created the locust wave, Ri Boku was too slow to notice, even if he sent them food, Kan Ki's army would just grab it, it would be counter-productive. There's no way to station food supplies outside the city to give to locusts and then re-direct them to another city. They knew Ou Sen's army was coming, nothing different could happen. The moment they would notice Kan Ki's army coming. All that food stationed outside would be stolen and they would have known beforehand about that from their scouts.
Kingdom Chapter 635 Spoilers
Chapter 634 also shown us that Shin actually has regressed in instinct. He is relying on Ten way too much to make all the decisions. For any general, one need to start observing the battlefield as a whole- to see and act accordingly to the changes happening on the field. In his defense, he is extremely exhausted from battle and he literally came back from the dead. Well, one thing is sure he will play an important role in chasing Ri Boku's army in Kingdom 635 which seems to finally reached Gyou.
Now, Ri Boku's army finally reached the gate of Gyou. They surely will engage with KanKi in Kingdom Chapter 635, they already lost the war and the end of Ri Boku is nearing.
Release Date
Kingdom manga's upcoming chapter will officially release on 19th March 2020. The scans will be out 2-3 days before that.
read Kingdom Chapter 635 Raw Scans
The raw scans haven't released online yet. We will update this article if we receive any news regarding Kingdom 635. So make sure to check out this post again later. Follow our Twitter.