If you're waiting for Kingdom chapter 614, this chapter is not getting this week. As stated in the previous chapter, Hara is taking a one week break, which indicates we will be getting Chapter 614 next week. Subscribe to our Reddit community for more latest updates on Kingdom Manga.
Kingdom Chapter 614 predictions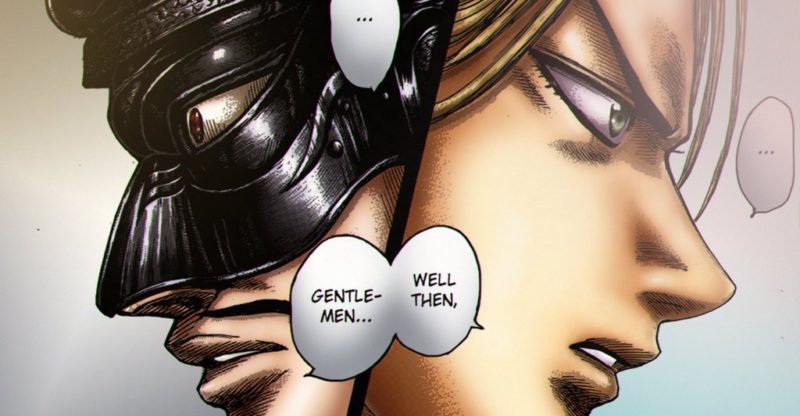 Shukai plains represent what Qin will most probably have to face when Ei Sei starts his unification campaign in serious. Hara has done an amazing job at illustrating the slog that is unforgiving, mistakes, deaths, and strategic loses that will hinder Qin. The goal of this war is to prevent Ri Boku's army from liberating Zhao. Qin will still capture Gyou even if the pincer attack fails. At best, Ri Boku can only force a draw this time and that's a huge failure in the grand scheme of things.
Fans don't want Ri Boku to simply get defeated by this pincer attack. Well, everyone has been waiting for this climax and the battle between the two centers. Ri Boku should have an ace up his sleeve with Hou Ken being there. Despite truly believing that Ri Boku will win, Fu Tei has uncertainties that he will survive with whatever assignment he has to do. He is going to the front, noticing Kaine is positioned there as well. We might see Fu Tei going toward Ou Sen and try to kill him down. However, Ou Sen might show his martial art skills in the climax of Kingdom chapter 614.
Ri Boku is underestimating Ou Sen if he thinks Fu Tei can defeat him. It looks like nobody has seen Ou Sen fight, but he must be very powerful. We might eventually see Ou Sen's martial strength in the next chapter. Fans are imagining Ou Hon being inferior to Ou Sen at this point so unless Ri Boku has someone like Hou Ken going after Ou Sen they will lose.
Now, the question is, where is Hou Ken right now? Are we going to see him in chapter 614 of Kingdom?
Chapter 614 release date
Most of the fans are excited to see what will happen in the next chapter. Most of them are questioning if they are going to witness Hou Ken in this chapter. However, with the delayed release of Kingdom manga 614, we will have to wait one extra week. Chapter 614 is going to officially release on 20th September.