Nanatsu no Taizai chapter 308– With the manga basically ended already, so many questions are left open. I'm beginning to think we will never find out what actually happened to the Zeldris and Arthur. Although, Zeldris might just appear in the next chapters, joining his brother when leaving the mortal realm, hoping Meliodas doesn't leave everyone sooner than the closing epilogue.
Nanatsu no Taizai chapter 308: End is Near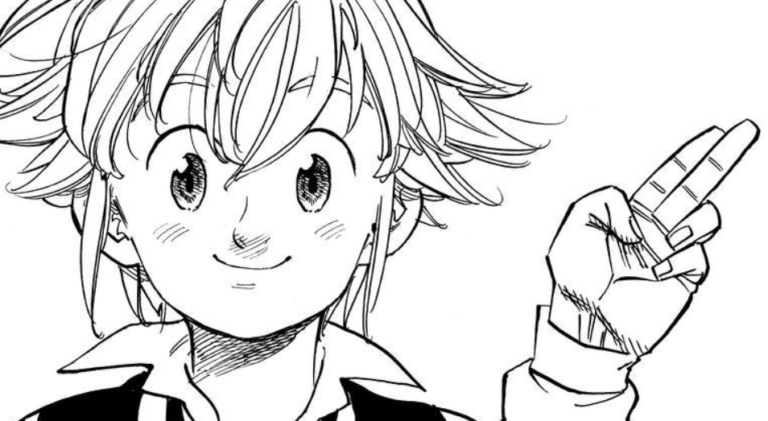 Chapter 307 was a great chapter and probably, the next chapter will cover amazing stuff people were actually hoping to see this chapter. The interactions with characters in this chapter were nice, However, it's really disheartening that we have no idea what happened to Zeldris. I'm pretty much certain that we're going to see Zeldris in Nanatsu no Taizai chapter 308.
Nakaba stated that this arc will be the last, but they pushed so much random material into it that was suppose to be great and develop characters that just fell dull. He already arrived with something out of the blue to break their curse so give them their peaceful ending for heaven's sake. I love this manga so much that I dislike everything being rushed. I would have wanted a mini-arc following the epilogue chapters, It feels like some character required their own arcs and we deserve to know what happened to the other characters.
[divider]
You might also like:
Ban and Demon King Power Level Comparison
How strong is Mael with Sunshine? Stronger than Meliodas?
[divider]

The criticisms of Chapter 306 were about Meliodas easily demolishing the curse without revealing how he got the power to do it. This chapter heavily hints that Meliodas did certainly fully receive the Demon King's powers and he must depart the mortal realm now.
Nanatsu no Taizai chapter 308 is titled "Epilogue 2". Fans are pretty excited about the chapter as the story is coming to a conclusion. I'm simply going to presume that Merlin and Ban are able to utilize their magic to shift the power of the Demon King to Zeldris, and later he will free Gelda and begins to reshape the Underworld and everyone gets to live peacefully.
I see Merlin is missing in the first epilogue chapter so I guess we'll see an epilogue chapter on her… Probably with Arthur. I believe the Arthur sequel will explore Merlin's past as she's a big piece of the Arthur story and I imagine Escanor will also play a part in it too since we never did get his backstory.
Nanatsu no Taizai chapter 308 release date
Chapter 308 of Nanatsu no Taizai is going to release on 22nd April 2019. Nakaba might be taking a regular break next week. Usually, when he takes a break he would be releasing double chapter the week following the break but probably not this time because it's so near to the Golden Week.
Featured Image by Deviantart Criszeldris1
[divider_top]
Subscribe to our Reddit community for more latest Updates.