Treasure Hunter For Hire: Chapter V
"STOP RIGHT THERE TRAVELERS! YOU ARE NOT ALLOWED TO PASS.", the water monster bellowed. Everyone in the group was bewildered. Seeing a creature of this size and structure speaking left all of them speechless. Suddenly Desmond came forward and spoke, "I am the leader of this party and I want to know why our progress has been stalled in this fashion?"
"SO YOU ARE THE LEADER HUH? YOU ARE VERY YOUNG. TELL ME, WHAT IS YOUR NAME BOY?"
"My name is Desmond. I come from the kingdom of Esterdell in search of treasure." At the mention of Esterdell, the monster whirled its head and leaned towards Desmond.
"ESTERDELL? DID YOU JUST SAY ESTERDELL?"
"Yes, why?"
"IS ALDER STILL KING THERE? I HATE ALDER. I HATE ESTERDELL. ALDER RAGED WAR AGAINST MY WHOLE TRIBE 25 YEARS AGO. ONLY I MANAGED TO SURVIVE. I'LL DEFINITELY NOT LET YOU PASS NOW.", the monster said with anger and sadness in his eyes.
"If you are this determined to not let us pass through then I guess we have no other choice left.". Meanwhile when the monster was talking Collin joined Desmond and as he said these words, both of them drew their swords.
"OH! YOU HUMANS THINK YOU ARE MUCH MORE THAN WHAT YOU REALLY ARE. YOU SMALL FRY, FIGHT ME? LET'S SEE YOU TRY!"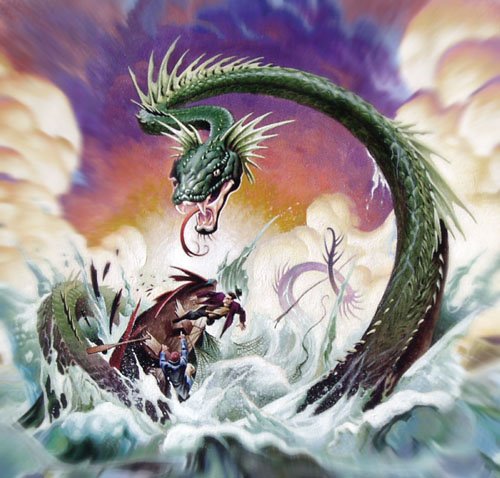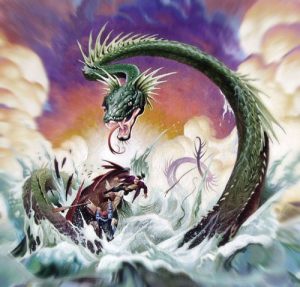 Collin had already given the orders to the mercenaries, to take everyone to safety. So, as the monster lunged towards them, bare-fanged, Desmond and Collin prepared to deflect the attack with their blades but the force was such that they had to fade back to avoid getting hurt. Both of them leaped backward a short distance and now stood in attack stances. Before the monster could get any chance to gain his stance back, they both lunged, Desmond, going for the left side of the monster's body and Collin going for the right side. They uttered a short cry and lunged in at the same time. The monster saw this and deflected Desmond's attack with its fang and hit Collin with its tail. Collin couldn't see the tail coming and was thrown on the bridge near one of their wagons.
"COLLIN!", cried, Desmond.
"It's okay. I'm just getting fired up.", Collin lunged again to struck the monster, again the monster tried to hit him with its tail but this time, Collin braced against it with his blade and managed to scrape it, just a little bit.
Collin landed on the bridge again. Seeing the cut he smiled, but the monster also smiled and said, "DON'T GET SO HAPPY YOUNG MAN, THIS LITTLE SCRAPE IS NOT ENOUGH TO HARM ME".
"Well, then I guess this will be.", crying this Desmond lunged at the monster again.
The fight went on like this for a long time. Desmond and Collin were getting very tired. Their attacks were lacking the initial energy and force and they were being pushed back easily. While the monster was also on the last reserve of his power, but due to his huge size, he was able to make more impact. As the monster lunged to attack again, this time Desmond couldn't defend properly and got hit. The monster slashed his right shoulder. It made a deep gash. "DESMOND!!", shouted Collin and started running towards his friend, when the monster hit him too with its tail. Collin crashed on the floor of the bridge with a cry. Both of them tried to stand up but the wounds were so severe they couldn't. The mercenaries stood watching with worried eyes. They were sent with this team to protect it, not stand in a corner and watch it die. The monster had totally forgotten about the other people around and as Desmond and Collin seemed defeated, he relaxed his guard and threw its head back to bellow out laughter at his supposed victory. Out of the corner of its eye, it noticed around 20 men running towards it, screaming a war cry. It felt stupid that it had forgotten about the other enemies. It didn't have enough time to properly defend itself as the 20 men lunged at it with varied weapons and new determination. It got hit in various places on his serpentine-like body. Crying out of pain it fell back into the waters. The men thought that they had finally defeated it when it stood up again and said, "YOU HAVE MADE A MISTAKE TO PICK A FIGHT WITH ME. YOU HAVE DONE IT, HUMANS, YOU HAVE FINALLY MADE ME ANGRY. NOW YOU WILL SEE MY TRUE POWER. BEHOLD!"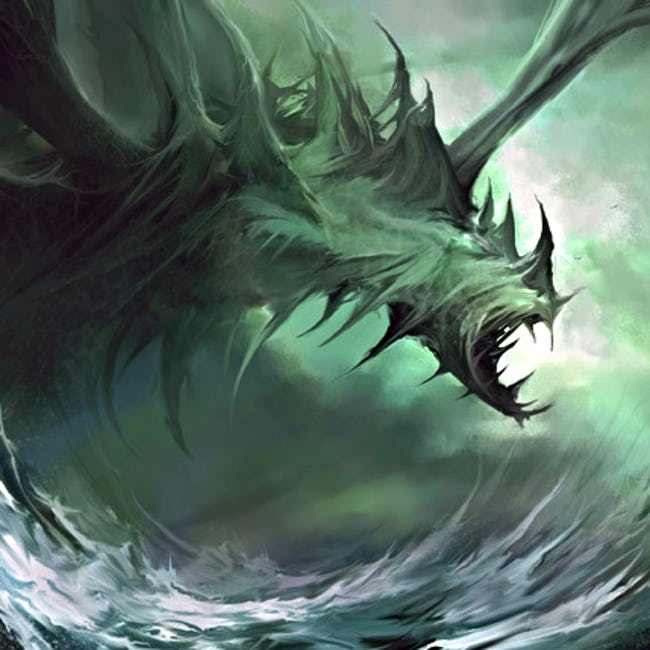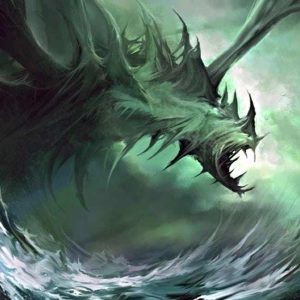 The monster started to increase in size. It roared in the effort and grew more than four times its original size. All of Desmond's team watched horrified. Its size was not the only thing that grew in number, the fangs and fins also doubled. Meanwhile, Collin helped Desmond walk towards one of their wagons where there was a supply of medicine. When they heard the sudden roar, they whirled back and saw the horror. Desmond stood up straighter, gripped his sword tighter, told Collin to rest in the wagon and ran towards the monster with newfound energy and determination. He will not rest until he defeated this monster that stood in his way.
The next chapter will follow soon.
The writer of the story "An Adventurous Story: Treasure Hunter For Hire, Chapter V" is Gitanjali Mishra. Connect with her on Facebook.
Previous Chapters: 
Short Stories: