The ability of Riboku's army which Ba Nan Ji's army is a part of has now been covered in this chapter. It's no big reveal that all of an unexpected makes everything in the manga make sense. Hara explained this way back in the arc that killed Ouki. Subscribe to our Reddit community for more latest Kingdom Chapter 616 updates.
Kingdom Chapter 616 Spoilers, Predictions
The distance between Ou Sen HQ and Ba Nan Ji army was not that much, to work with. This is not a thing of teleporting your armies quietly by miles. Ou Sen failed to predict that Ri Boku would make an offensive movement at a moment like this.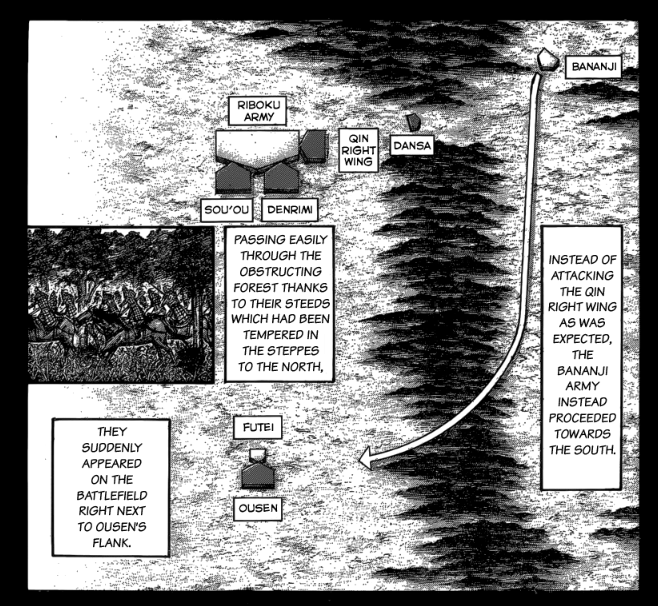 Hopefully, We'll get to see Ou Sen's martial power in Chapter 616. According to the guidebook, Ou Sen got 93 points in strength. He is a monster on the combat level and the next chapter might confirm this. That glaive swing in this chapter is the symbol of way more to come in Kingdom Chapter 616 from Ou Sen.
Some Fans over Reddit believes, Ou Sen to have some plan up his sleeve. Ambushing Fu Tei, the weaker of the two pincers and then circling and surrounding Ba Nan Ji. By this time Dan Sa would have appeared with his squad to shift things around and Ou Hon would create enough of a disturbance to at slightest buy a little time.
Moreover, Hou Ken is most probable stationed to Ri Boku's left, apparently his last line of support on his left side, which is why Ri Boku this chapter wasn't bothered about the Hi Shin Unit's approach and concentrated on the center.
Where is Kyou Kai?
Kingdom Chapter 616 will probably reveal that Kyou Kai is also following Ba Nan Ji's and Ou Hon's troops. She also noticed their troops when they were passing nearby hers and decided to follow through and will decide to slash down Fu Tei and his troops in the back, effectively killing him. Or perhaps she will be the one killing Ba Nan Ji while Ou Hon kills Fu Tei. That way even Kyou Kai will have a Zhao General's had by the end of this campaign and will be promoted 5000-men commander at the award ceremony.
If Kyou Kai manages to kill Ba Nan Ji, that would be a huge achievement. Not only she kills enemy great general but also saves own HQ commander. 
Kingdom Chapter 616 Release Date
Chapter 616 of the manga is going to release on 4th October. However, the raw scans will be out 2-3 days before that.

---
© 2019 Discover Diary All rights reserved. Do not copy without permission.
---