One Punch Man Chapter 121 is out and the hype we got in this chapter was incredible. As we all expected, we returned to the Monster association base for this chapter. Fans are wondering with which fight will Murata continue in One Punch Man Chapter 122? Hopefully, he will continue both, but it would really be fine if he just focuses on the Super Alloy Darkshine vs Garou fight.
One Punch Man Chapter 122: Super Alloy Darkshine Vs Garou
The second half of this chapter shows the fight between Child Emperor against ENW. CE takes the initiative in battle by freezing Evil Natural Water, it is still unknown how effective that attack will be against ENW as the chapter concludes leaving us on a cliffhanger. We may soon find this out in the next chapter. Honestly, It would be epic if it doesn't affect him at all.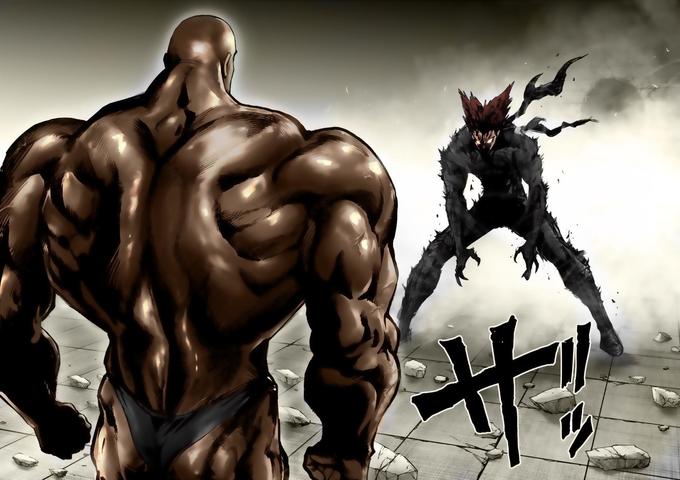 Darkshine is getting scarily buff. In Garou vs Darkshine standoff panel, Garou looks all rugged and rough despite him representing grace and technique and Darkshine is smooth and elegant despite being brute strength. We can't wait to see these two duke it out in One Punch Man Chapter 122.
Darkshine has stated before that even he doesn't know how to hurt himself. The match up with Garou and Darkshine is really likable. Because first we saw a much weaker Garou fighting Bug God and couldn't really do damage to him. Then we see Darkshine wreck a transformed Bug God with one quick hook to show just how strong a Top Tier S class hero is.
This is a great opportunity to see how strong Garou is becoming and how big of a serious threat he truly is. It is understandable that Darkshine will eventually get beaten, but it feels like he should push Garou to the edge, causing him to semi evolve, and then get pummeled by Garou, that way it feels like an actual fight.
One Punch Man Chapter 122 release date
Chapter 122 of OPM manga will release on 1st December.
Editor's Pick:
Top 10 Loli Ecchi Anime List [Best Recommendations]