Demon Slayer Chapter 184 is out and something unexpected happened. The ending of this chapter unveils that Tanjiro is dead. Fans are anxiously waiting for the next chapter since they want to know, how Tanjiro is going to survive? Subscribe to our Reddit community for more Demon Slayer: Kimetsu no Yaiba Chapter 185 updates.
Kimetsu no Yaiba Chapter 185: Is Tanjiro Dead?
As we all know, Tanjiro's family wasn't eaten by Muzan, just killed. And considering Nezuko was exposed to his blood it's safe to conclude he poisoned them with his blood after fatally injuring them to guarantee there was no chance they would withstand it. Nezuko survived that, however, so it's quite plausible for Tanjiro to survive. If he does become a demon or as some have suggested a half-demon, Tanjiro will probably go rouge at first and Nezuko will help her.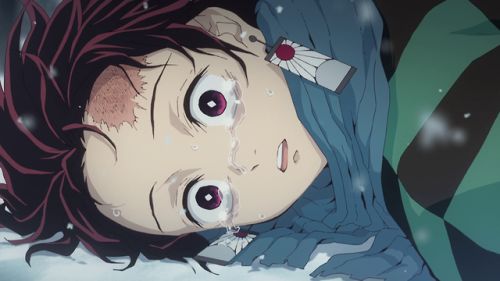 Muzan accidentally powering up Tanjirou by turning him into an overpowered demon would be a super interesting move by the author. It's not impossible since Nezuko survived an enormous amount of Muzan's blood and all, there's something unusual about them.
The flashback of Muzan Vs Yoriichi in Demon Slayer 185
UM1 already said it's rare, but there are people resistant to demon blood. And on top of that, pillar level demon slayers require a lot more blood compared to others to turn. In Kimetsu no Yaiba Chapter 185, we're going to get a flashback of the Yoriichi and Muzan fight, triggered by the blood of Muzan so Tanjiro can learn the 13th form.
We are getting a flashback in Demon Slayer chapter 185. Perhaps the most important one of them all – Yoriichi vs Muzan. Fans want to see how that fight went and especially Breath of the Sun since Tanjiro now has Muzan's blood. He could see the entire thing. He is going to see Muzan's memories for a brief moment and learn the full forms of Breath of the Sun from when Muzan fought Yoriichi.
Release Date
Chapter 185 of Kimetsu no Yaiba will officially release on 1st December. However, the raw scans will release 2-3 days before that.
Featured Image by Cathiane Deviantart