Chapter 194 came out earlier and the most awaited Kimetsu no Yaiba manga fight of all time is here! Tanjiro and Muzan are going at it and it is the most amazing fight of all time. If you live under a rock and you do not know what has been happening until now, we will recap it for you. Before going on with the article, we must warn you. The article ahead contains major spoilers for Demon Slayer aka Kimetsu no Yaiba Chapter 195. So if that is one of your pet-peeves, you might wanna skip on this one. But if not, let us dive straight into it!

Kimetsu no Yaiba Chapter 194 Recap
Tanjiro and Muzan are finally having a face-off and Tanjiro can barely keep up till dawn. He is pushing his limits above and beyond to defeat the man because of whom it all started. The lack of oxygen is hindering his vision and making it even harder for him. Tanjiro is well aware that he cannot win alone against Muzan and is desperately hoping for some backup.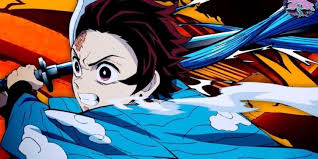 The last Demon Slayer chapter showed us how the apprentices are going around and treating the wounded. Among the injured, Himejima is also present but it seems he will recover soon enough. Muzan, on the other hand, is aging fast and losing his speed. Because of this Tanjiro can give him a hard time. Muzan is quite strong but even he is having trouble handling a mere "human". This frustrates him to no end that he is not able to defeat Tanjiro despite what he thought earlier.
But wait, somebody comes in at the last moment. It's Iguro! But he is quite beaten up and has lost his eyes. Therefore, Kaburamaru will be assisting Iguro by relaying Muzan's information.
read Kimetsu no Yaiba Chapter 195 Spoilers
Demon Slayer Chapter 195 will show us the climax of the Tanjiro and Muzan fight. Muzan is finally weak enough and Tanjiro will aim to finish him off. Along with Iguro's help, Tanjiro will hit Muzan's weak spot. Muzan is weak because of the aging poison and his health is deteriorating by the hour.
At the beginning of the chapter, Muzan is frustrated by Tanjiro's power and strength. He exclaims that Tanjiro looked much weaker earlier. He goes on to further explain that he has been burning his cells like the sun for hundreds of years. Looking at Tanjiro, he realizes that Tanjiro here is the real monster.
Tanjiro, on the other hand, knows that Muzan is weak but in destroying him, he will have to fall as well. But he is perplexed. Kaburamaru alone has certain limits. Now Tanjiro has to think of a way to finish this. But, Muzan suddenly takes off. He runs away!! Seeing this, both Iguro and Tanjiro chase after Muzan.
Seeing defeat in the face, Muzan tries to flee but Iguro catches up with him and stabs him in the neck from behind. It is not enough to defeat him though. Iguro gets thrown back along with Tanjiro. Muzan then attacks both of them, injuring them gravely. At this instant, Tanjiro throws the papers in which Kaburamaru grabs and instantly Iguro's sight is returned. Both of them seize this opportunity to surround Muzan and finish him off.
On the other hand, Nezuko watches the fight from afar. She seems gravely concerned for the survival of her big brother. Fans are anxiously waiting for the arrival of Chapter 195, so below is the official release date of this upcoming chapter alongside raw scans expected release date.
Demon Slayer Chapter 195 Official Release Date
The official release date of Chapter 195 of Kimetsu no Yaiba manga is 23rd February 2020. You can grab this chapter at Viz and manga plus. Let us know in the comments down below what do you all think of this chapter.
Read Demon Slayer 195 raw scans
The raw scans haven't leaked for the chapter yet when we receive the spoilers we will update this article. So, till then keep checking DiscoverDiary for more amazing articles. You can also join our Reddit Community if you want.