In the year 2019-2020, Kingdom has become one of the most famous manga out there. Recently, its 632nd chapter released and it only brought good news with it. Fans have been rejoicing over the news of Kyou Kai and Shin being alive. The only thing that remains to be seen is whether this arc has some new twists and turns to offer. This is where Kingdom 633 comes in.
Before we move on with this article, there is something that needs to be addressed. The article ahead contains major spoilers. If that is not your thing, you might wanna skip this one. You have been warned! But if that is exactly what you are here for, then let us dive head-first into the tea!
Kingdom Chapter 632 Summary
If you have been living under a rock lately, and do not know what's going on with this, let us recap it for you. So, in the latest chapter, Shin wakes up to life and everyone around him starts rejoicing. Everyone is happy and thankful that Shin is alive. But beside him, Kyou Kai seems to be dead.
On the other hand, she has entered into a coma-like state where she meets with her sister, Shou-nee. Shou-nee informs Kyou Kai that she has used a forbidden technique, to save Shin's life and she cannot ever use that same technique again. Also, her lifespan has been shortened because of using this technique. And then Kyou Kai wakes up too.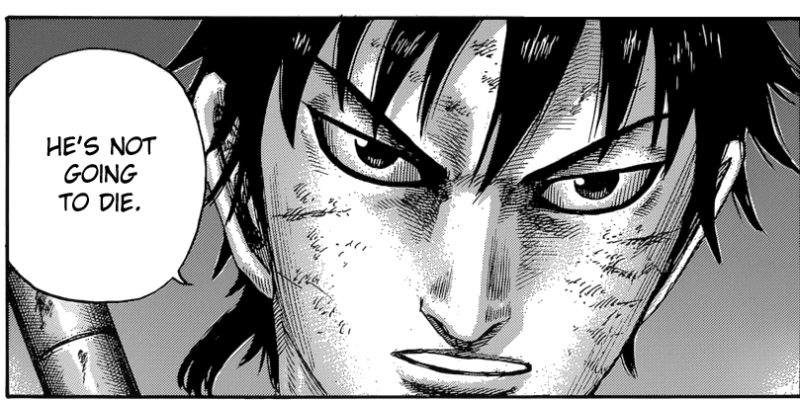 Shin seems quite relieved seeing Kyou Kai alive and thanks to her for saving his life. But suddenly, Mou-ten and Ouh arrive at the scene and start chiding them. They order the Hi-Shin unit to go after Ri Boku who has evidently fled the battlefield and is nowhere to be found.
Ousen's army has taken over Ri Boku's army and now they are also chasing after him. Shin blames himself for Riboku's getaway but Mou-ten explains that all of the Zhao armies have also withdrawn simultaneously. Mou-ten further goes on to explain that Riboku's next move will be to gather his remaining forces and move for Gyou to lift the siege. And therefore, Qin is declared victorious. Fans are anxiously waiting for Kingdom 633 which is going to release on 27th February. We can only wait and speculate about the events of the upcoming chapter.
Kingdom 633 Spoilers, Raw Scans
The upcoming chapter will act as a filler for the after-war scenes. Of course, after such an intense war, there will be some cleaning up to do. Everyone will have to wait patiently for the raw scans of Kingdom Chapter 633 to be released to know more before the official release of this chapter.
Read Kingdom 633 Raw Scans
The raw scans of chapter 633 haven't released yet, the leaks will most probably arrive on 25th February. When we receive any news regarding the upcoming chapter, we will update this article. So, bookmark this page for more Kingdom updates.
Official Release Date
There is no delay in the release of this chapter. Therefore, Chapter 633 will be released on 27th February 2020. The raw scans for the same will be out 2-3 days before the official release date, i.e., 25th February 2020. Join our Reddit Community.
Let us know in the comments down below what you think about all of this and what all is going to take place in the upcoming chapter.