'Kimetsu no Yaiba' aka 'Demon Slayer' has been one of the most talked-about anime in 2019. Well, with such amazing animation and flawless storyline it should be. Although its manga was released way before the anime, in 2018, the anime lovers waited patiently for the release and showered it with all the love and affection possible. For the tiny amount of people who don't know about Demon Slayer, let me explain. The anime is all about Demons, History, Shounen, and Supernatural. In this article, we will discuss when is the possible release date of Kimetsu no Yaiba Season 2? and what can we expect from season 2?
'Kimetsu no Yaiba' aka 'Demon Slayer' Summary
The plot goes something like this. After the death of his father, Tanjiro Kamado has been the sole caretaker of himself and his family. One fateful evening he goes into town to make some money, that is when everything changes. He comes back in the morning to find that his whole family has been brutally killed at the hands of demons.
In this world, demons are known to slay humans and feed on them to gain power. By their bites, the demons also grow in population. Landing on the site of this massacre he finds that his younger sister, Nezuko is still a little bit alive. So he grabs her and tries to reach the town doctor in time just when a demon slayer encounters them.

The demon slayer goes after Nezuko and Tanjiro tries to persuade him that he will cure Nezuko and return her to normal at any cost possible. Convinced, the demon slayer leaves both of them with an address to demon slayer tutor and tells them that the cure that Tanjiro is looking for can be found from the first human ever transformed into a demon, i.e., Kibutsuji Muzan. From there onwards, Tanjiro and Nezuko set out on a journey to find and beat Muzan. 
Demon Slayer: Kimetsu no Yaiba Season 2 Release Date
After the massive success of season 1, Ufotable, the company responsible for the anime's animation, confirmed that they are working on season 2. Yay!
As of now, they have released a 20-second trailer for the upcoming 'Demon Slayer' movie which will cover the infinite demon train arc. The release date for Kimetsu no Yaiba season 2 has not been confirmed yet, but looking at the success of season 1 they might air season 2 by spring 2020. But, what will happen in season 2?
What is the story of Demon Slayer Season 2?
The plot of Demon Slayer season 2 will handle the character development of all the major characters of the anime. We do not know a whole lot about any of the characters if you think about it. So that is what season 2 will be responsible for.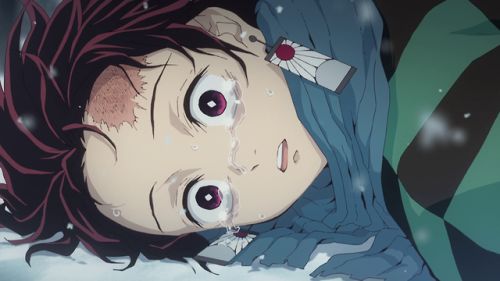 It will majorly cover all the backstories of Tanjiro's father, how he died and who was he. It will also cover the stories of the top ten demon slayers of the demon slayer corps, and where they originated from. We might also see the truth about the demon in question, Kibutsuji Muzan, about how he came to be a demon and what is his actual purpose. There is a lot to think about, am I right? But do not worry, all of the questions that might arise in your head while watching season 1 will be answered in Kimetsu no Yaiba season 2.
The development of characters is what I'm most excited to watch. Of course, the anime will be action-packed but what I want to know is what kind of power does Muzan possess, how many underlings he has, to what extremes he will go to kill Tanjiro and how will Tanjiro protect himself and Nezuko from all these dangers.

When will 'The Demon Slayer Infinite Train Arc' release?
But before all of that 'Demon Slayer Infinite Train Arc' will be released. We will have to digest that also. Let us see where the movie leads us. The movie is going to pick up from where season 1 left off so that is also pretty exciting. And we know for sure that the production of the movie has already begun. I just hope that the next few months passed us by quickly enough.
What can we expect from Kimetsu no Yaiba season 2?
The expectations from season 2 are pretty high I would say. After such a dope anime with amazing animation and fight scenes, all the fans will expect the same if not higher from season 2. Although season 2 is said to pick up from where the movie leaves us of, What do you think? Is it going to be as bomb as season 1 or no? Will it be jam-packed with fight scenes? Will Kimetsu no Yaiba season 2 introduces some new, spicy characters as well?  For exciting anime and manga news and info, follow our Reddit community and subscribe to our Youtube Channel. Thank you!