In this post, we will talk about Solo Levelling Chapter 105 spoilers, release date, and leaks. Before moving forward, let me remind you that this article contains possible spoilers for the upcoming chapter. Let's start!
Solo Levelling Chapter 104 review and summary
Chapter 104 was no doubt superb in terms of art and story. It revealed the first human resurrection by Jin-woo because he was desperate to save Cha Hae-In. The sad thing with the scene is, even if he turned out to be some evil Necromancer, nobody there can do anything to stop him. He stomped the thing that was toying with all of them and they all witnessed it happening. To go from the absolute peak of your profession to realizing you're too weak to make a difference. Tt's the complete opposite arc of our hero.
Read Solo Levelling Chapter 105 Spoilers and Predictions
We all know Solo Levelling Chapter 105 will reveal the S-class heroes' reaction to the resurrection of Byeong Gu. Some might not like the idea of reviving the dead hunter but Jin-woo did this to save Cha Hae-In.  This was a dire situation, and to save a life, he had to resurrect him. Even for morality, He still has his humanity and the healer did nothing to justify being imprisoned for the rest of his lifetime.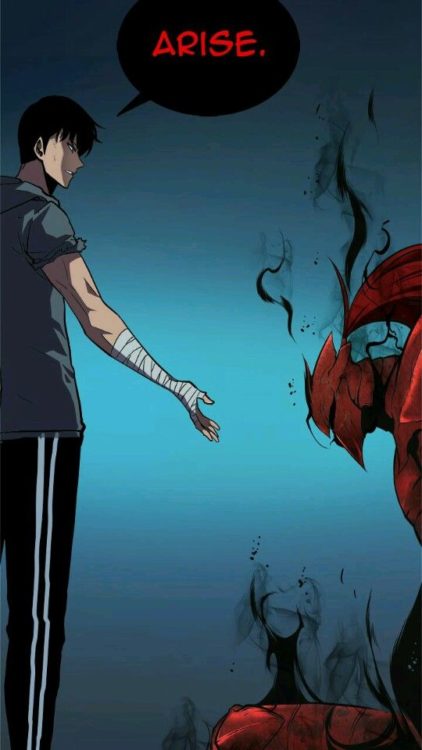 The reaction of S-class hunters was chilling when they finally understood the true ability of hunter Jin-woo. We all must be reassured in realizing that this was likely all a stepping stone for the world to recognize the true extent of Sung Jin-Woo's power. Chapter 105 of I Alone Level Up will most likely show us the reaction of the public after witnessing that fight against the Ant King. The threat was real, the S-class heroes were hopeless against the Ant King and Jin-woo defeated him without breaking a sweat. Fans are anxiously waiting to read the next chapter which is Solo Levelling Chapter 105.
Release Date
Chapter 105 of Solo Levelling is going to release on 13 February 2020.
Solo Levelling: I Alone Level Up Chapter 105 leaks
The leaks haven't released online yet, the leaks most likely arrive a day before the official release which means we can expect Chapter 105 leaks on 12th February 2020. We will update this if we get any information regarding the chapter. So, be sure to check this post again and share with your friends. You can subscribe to our Reddit Community for more awesome posts.