Nowadays, most foods are packaged using complicated and detailed machinery. For this reason, it is often difficult for factory employees to keep a close eye on all products that are sent out to grocery stores and supermarkets, leading to a number of disturbing finds.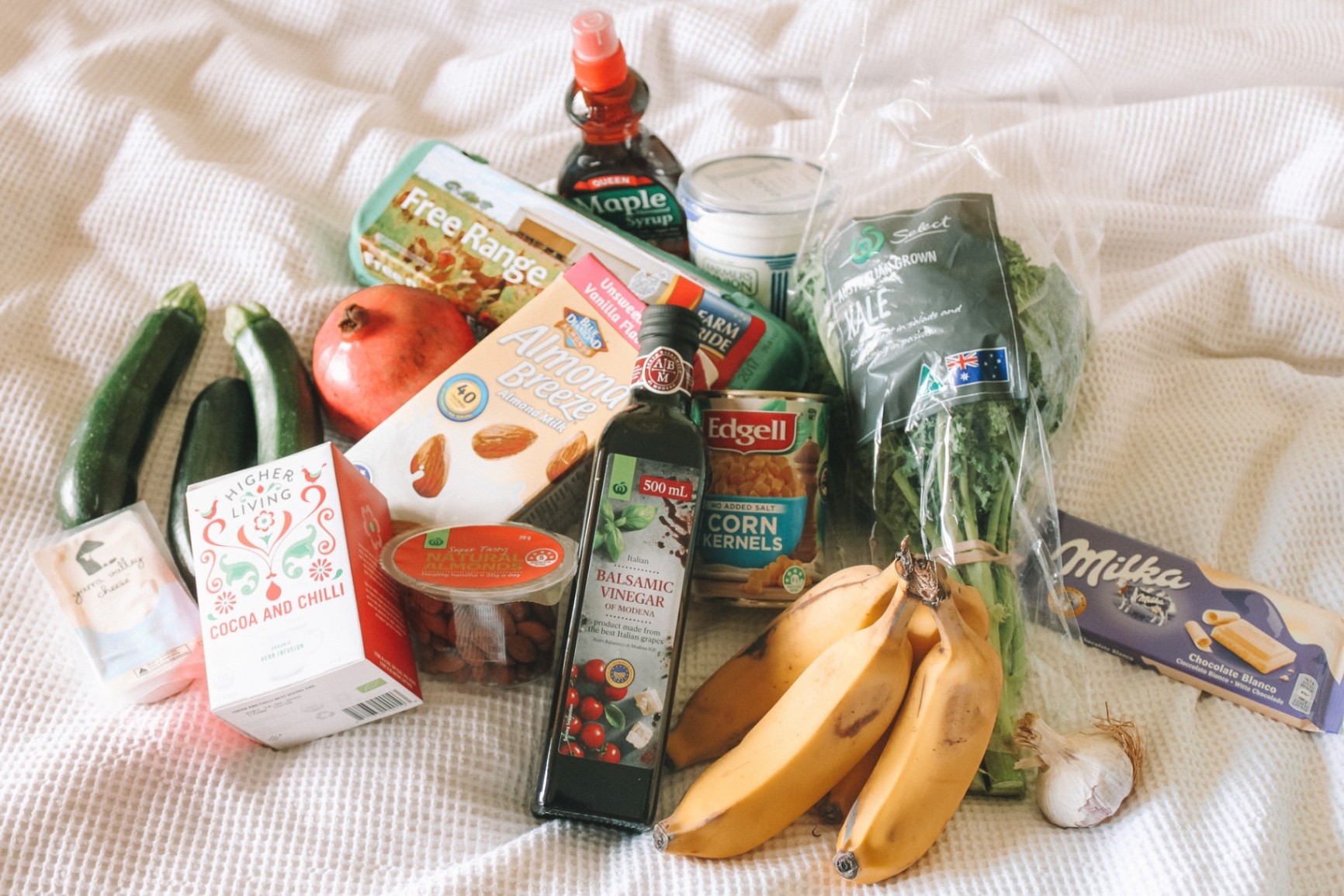 From maggots to frozen toads – the things that some people have found in their packaged foods are truly bizarre. In this article, we will be discussing 25 insane (and disgusting) surprises that unsuspecting shoppers found in their groceries.
Maggot Milk Chocolate
Everybody loves chocolate. However, if the chocolate is so old that it has maggots growing inside, most people would probably turn it down.
This gentleman was horrified to find a maggot crawling around inside one of his milk chocolates. Just one more bite and he would have discovered exactly what these disgusting creatures taste like!
On the bright side, at least he didn't give the box of chocolates to a girl he liked.
A Mouse in Tikka Masala Sauce
The last thing that you would expect to find in a jar of curry sauce is a dead rodent.
Unfortunately for this woman, her worst nightmares came true after pouring the sauce into her food.
When a large clump fell out of the jar, she figured that something was wrong. After digging around in the sauce, she was horrified to find a tiny mouse.
A Mouse in a Loaf of Bread
From one dead mouse to another…
This woman was busy making her children a sandwich when she noticed something off about her bread loaf.
Baked into one of the corners was a tiny dead mouse… How did the baker not realize that there was something in his pan?
A Sweet Tooth
This story takes having a sweet tooth to a whole new level…
After taking a big bite of chocolate, this man quickly realized that there was something hard hidden inside.
To his horror, he pulled out an old tooth after digging around in his mouth. We still aren't quite sure how it wound up there.
A Cockroach in Anchovies
Millions of people around the world are terrified of cockroaches.
For this reason, finding a dead cockroach at the bottom of a can of anchovies may seem like a nightmare for many.
This lady quickly filed a complaint to the shop from which the anchovies were purchased.
A Frog In a Packet of Penne Pasta
Can you imagine opening a bag of pasta, only to find a dead frog hidden inside?
Unfortunately for this woman, her bag of penne acted as a coffin for this little frog… Upon opening the bag, she quickly noticed the disturbing smell.
After her unpleasant discovery, she quickly sent the package back to the grocery store and demanded an explanation. I don't think she will be buying from that brand ever again.
Maggots in Her Noodle Soup
Noodle soup seems like a pretty basic meal that shouldn't warrant any unwanted surprises.
However, this teenager experienced something entirely different when she made lunch one afternoon. After opening her pack of noodles, she realized that there was movement inside the bag.
To her horror, she found dozens of maggots crawling around inside. The family wasted no time in returning the soup and filing a complaint.
The Toad in the Diet Pepsi
The last thing that you would expect when taking a sip of canned cooldrink is to find something slimy inside.
When this man took a big gulp of Diet Pepsi, he almost choked when something hard and squishy blocked the opening.
Upon further inspection, he found a toad inside the can… To make matters even worse, he had consumed a few sips of the soft drink before making the discovery.
Centipede Curry
This man was absolutely horrified to find a centipede crawling around on his Tesco meal.
The last thing that you would expect to find inside your ready-made meal is a hundred-legged creepy crawly.
We still have no idea how on earth the creature got into the packaging or survived being cooked at 400 degrees. On the bright side, the man wasn't stung by the venomous creepy crawly in the process.
A Maggot in an Orange
When this man peeled open an orange, he was disgusted to find a maggot crawling around inside.
More so, the orange was filled with larva, adding to his absolute disgust.
One thing's for sure – he definitely would have been able to taste the difference if he had taken a bite out of that fruit.
The Green Chicken
This woman noticed something off-putting when she took a large bite out of her chicken breast.
To her surprise, she discovered that the meat of her chicken was green…
It turns out that the green coloring was due to bile from the chicken's gallbladder, which had not been properly removed.
A Toad in Tesco Greens
Is it normal to package foods with frogs nearby?
This Tesco customer was horrid to find a dead frog at the bottom of his vegetables.
He wasted no time in returning the greens and demanding his money back.
The Dead Bat in A Rice Krispies Box
In 2016, a teenager living in London was shocked to find an unpleasant surprise hidden at the bottom of his cereal box…
After realizing that the package was rather heavy, he found a dead bat buried at the bottom of the bag.
Again, we have absolutely no idea how the packaging company could make this mistake.
Snake-Flavoured Green Beans
What would you do if you found the head of a snake buried amongst your green beans?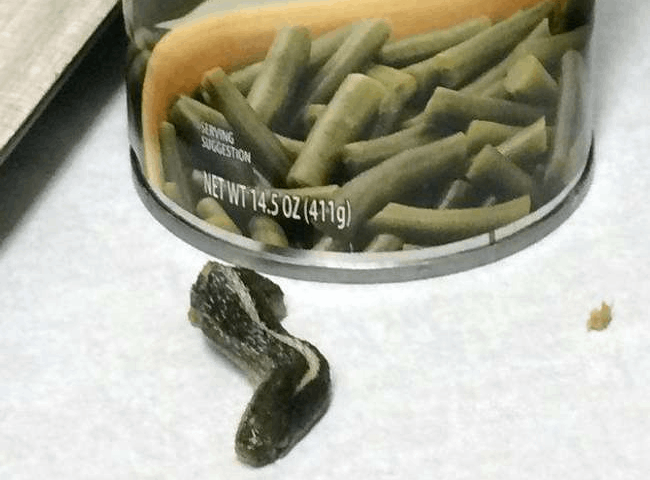 What's worse, the decapitated reptile matched the coloring of the beans, making it even harder to find.
We couldn't imagine anything more disgusting than taking a bite out of a snake's head…
The Frozen Frog Vegetables
Another frog… Yes… Another one!
This lady was horrified to find a frozen frog when she opened her bag of mixed vegetables. What's worse, the frog appeared to have been alive when he was sealed in.
The woman quickly sent the food back and filed a complaint.
Weevil Pasta
When this little girl opened a bag of pasta for her mother, she noticed that there were tiny black dots moving around inside the packaging.
Upon closer inspection, they realized that the packet was filled with weevils.
To make matters even worse, the pasta was also filled with thousands of eggs waiting to hatch.
The Growth in the Vinegar Bottle
This is probably the strangest story you will hear today…
This woman was disgusted when she opened her bottle of vinegar to find a weird lump inside. Even after closer inspection, she could not determine what the object was.
Eventually, she decided to take the bottle back to the store, where employees physically gagged because of the smell of this lump.
Black Widow Grapes
Finding a creepy-crawly inside your food is one thing, but finding a venomous spider is a completely different story.
This man had the fright of his life when he opened a packet of grapes to find a black widow hidden inside.
The man ultimately sued the store from which the grapes were purchased.
The Cake With A Hidden Surprise
When this woman opened a low-calorie cake snack, she quickly noticed an unwanted surprise hidden inside.
When picking up the cake, she noticed a white creature fall from the packaging. At first, she thought it was a maggot.
However, upon closer inspection, she realized that there were baby caterpillars baked into the cake.
The Razor Blade Ice Cream
This one is more disturbing than disgusting…
This woman noticed something hard inside her peanut butter ice cream. Upon closer inspection, she was horrified to find a real razor blade hidden inside.
We don't understand how this mistake could be made! Whoever was behind this incident should definitely be held accountable for the potential damage that could have been caused.
The Lost Oven Mit
This woman was shocked to find something fuzzy at the bottom of her bread.
However, after closer inspection, she discovered that the loaf had an oven mitt baked into the bottom.
Let this be a lesson: if you ever lose something in the kitchen, be sure to check your food first.
Lost Nails
This is another dangerous story that should definitely be investigated more closely.
In 2008, this British woman discovered that her mac 'n cheese was slightly crunchier than usual. To her horror, she found a bunch of nails hidden inside the pasta.
To make matters even worse, she had already swallowed one. Since doctors were unable to surgically remove the nail, the woman had to wait for it to pass naturally.
The Worst Fast Food Kids Toy
An 11-year-old girl was mortified to find a clump of nails hidden inside her pack of takeaway chips.
Once the mother saw what her daughter almost ate, she quickly filed a complaint against the fast-food restaurant.
She also sued the company for the potential damage that they could have caused.
The Gerber Glass Disaster
This is one of the strangest food disasters you will ever hear…
In 1986, a total of thirty states across the country filed complaints against Gerber. This was due to the fact that families all over were finding pieces of glass hidden inside their baby foods.
Understandably, most of these states decided to ban the brand from all shops until the problem had been sorted out.
Venomous Chips
In 2017, a man decided that it would be a good idea to hide king cobras in knock-off chip chip containers.
However, his idea wasn't executed quite as planned. Once the containers were intercepted by the US government, his little scheme came to a quick end, and he was arrested.
When the government searched his home, they were surprised to find hundreds of king cobras hidden in different rooms. There were even venomous snakes stored in his children's bedrooms.
Summary
Over the years, thousands of strange things have been found hidden inside food packaging.
This includes a number of frogs, snakes, spiders, maggots, and even dangerous objects, such as razor blades and nails. It is very important that you inspect your food before consuming it.