Hello guys, in this post we are going to talk about Kimetsu no Yaiba Chapter 201 spoilers and release date. We will also talk about the official sources to read Demon Slayer: Kimetsu no Yaiba 201 online. But before moving ahead, let me tell you this post holds spoilers for the next installment of the manga, Demon Slayer. Therefore proceed at your own risk.
Also, Read – One Piece 976 Official Spoilers, Raw Scans, Jinbe's Return
Kimetsu no Yaiba Chapter 201 spoilers
We already had numerous chapters of his final battle; his death was very clearly established as a hard-earned accomplishment. However, Muzan just dying without reflecting on his life while pretty much all the demons got an afterlife scene is suspicious. Moreover, Tanjiro dying without seeing human Nezuko with his own eyes even more so.
Tanjiro was said to have no pulse or breath but that's been pretty common in the manga where people literally survive by holding pulses or breaths by minutes. It looks like the author will show us a flashback of Muzan or Tanjiro in the upcoming chapter which is Demon Slayer 201. Plus, it'd be good to see Kamado come back for a moment to see Nezuko and say his goodbyes before he finally goes.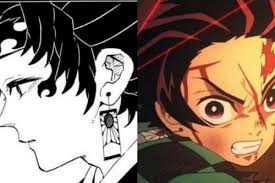 Kanao wasn't in the color spread and has been absent entirely since Tanjiro saves her from Muzan. How will she react to the death of Tanjiro, who was emotionally a savior for her? It looks like there's something important that's going to happen with her and that's why she's being left out. We have to wait for Kimetsu no Yaiba Chapter 201 to know how she is going to react.
Is Muzan Alive?
Some fans believe that Muzan is still alive, this theory states that Muzan will take control of Tanjiro's body. Some facts do strengthen this prediction, like the Kamado's tumor, remains in his right eye, even though Muzan is already dead.
On the first page of chapter 200, we saw a spread of the dying characters on the right and the survivors on the left. If Tanjiro survives, then what is the point in drawing that page? And what is the point in saying he has no pulse, have Gyuu mourn his death and did Nezuko cry about it? We have to wait for Demon Slayer 201, to know what the author has planned.
Kimetsu no Yaiba Chapter 201 release date
Demon Slayer chapter 201 will officially release on April 5th, 2020. As it is a common tradition with mangas, the scans will be released 1-2 days prior to the official release date. If we hear any news, we will update this article. So, keep checking DiscoverDiary for more awesome news.
Also, read- My Hero Academia 267 Spoilers, Release Date
Where to read Demon Slayer 201 officially?
All the chapters of Kimetsu no Yaiba manga are available to read for free on Viz Media and Shueisha. You can read Demon Slayer Chapter 201 on these websites.