Nothing major happened in Chapter 629, Shin is still dying and it seems like Kyou Kai is gonna save her using her life force. Shin is the protagonist of the series and him dying is most likely won't happen. So, who is going to save him? will it be Kyou Kai or Hou Ken? The question will be answered in Kingdom Chapter 630. If you think there is a chance of his revival without sacrificing Kyou Kai's life than let us know in comments.
Kingdom 630 Raw Scans
We have received some leaks for Kingdom Chapter 630. But, the spoilers are not completely confirmed. According to Vietnamese leaks, Kyou Kai will go in the dark realm to save Shin… where she will encounter Yuu Ren. We don't know if the above leaks are true or not but it might be possible. We will update this article once we receive more spoilers and leaks for the chapter.
Release date-
Chapter 630 of 'Kingdom' manga is going to release on 6th January 2020. The leaks might arrive 1-2 days before that. The raw scans haven't released yet when they do we will update this article. So, keep visiting DiscoverDiary for more awesome speculation posts.

Kingdom Chapter 630 Spoilers, Raw Scans, and Predictions
Shin is on the verge of death after fighting Hou Ken, he was able to finish off Hou Ken however Shin also received some fatal blows. The last 2 chapters had fans worried about him as the fire that represents his life is extinguished.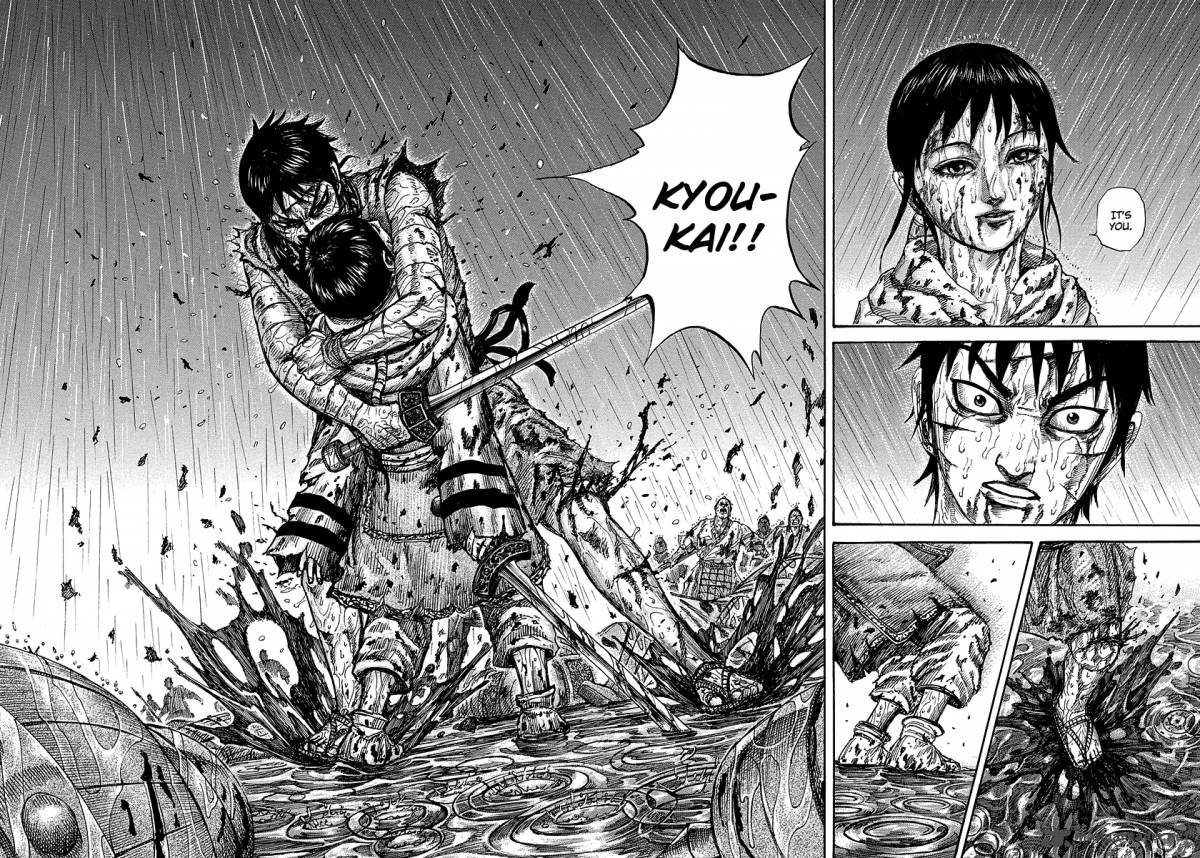 Well, don't lose hope yet… there is a way to revive him and that lies with Kyou Kai and her force healing. We can clearly see in this chapter that Kyou Kai is ready to sacrifice her life in order to save Shin. Moreover, there is another contender who might play an important role in saving our hero. As we predicted in our earlier article, there is a slight possibility that Hou Ken isn't dead and will wake up and heal Shin back to life.
It will be interesting to see how Kingdom Chapter 630 plays out. Hou Ken healing Shin is possible, especially after that last reveal.
The next chapter might shift towards Ri Boku and how he makes his way to Gyou. We have seen in the earlier chapters that he still thinks he can win. He didn't lose his morale after losing Hou Ken. Since he can't defeat Ou Sen, so he decided to strive for the most important goal now.

If you like our content, you can join our Discord and subscribe to our Community on Reddit. Thanks!