Chapter 975 came out earlier and believe me it was a blast. Today we'll be discussing the spoilers and release date of One Piece 976. We will also discuss the official sources to read One Piece Chapter 976.
Note: This post contains major spoilers regarding the upcoming chapter of One Piece manga so proceed at your own risk.
If you guys are waiting for One Piece 976, it's unfortunate to tell you that Eiichiro Oda is taking one week's break. So, instead of 29th March, it will release on 5th April.
One Piece Chapter 975 Summary
The latest chapter had some epic panels. We got to see the reaction of Kine'mon and co. to Denjiro revealing himself. Moreover, Kine'mon misread the secret drawing and took the retainers to the wrong location. Well, that worked in our warriors' favor- Kanjuro revealed himself as a traitor and we got to see Denjiro the last scabbard in action.
Kinemon is such a genius!
His IQ is so high that he didn't even know that he fooled himself so he could fool the traitor! Such a leader!#onepiece975 #kinemon #wanoarc #onepiece #onepiece976 #manga pic.twitter.com/iOCMWt4CVq

— TheAnimeFreak (@TheAnimeFreak20) March 20, 2020
After some long time, fans also witnessed all the StrawHat members together, they even changed their getup. Sanji's gloves and Zeus's armor looked cool, and Zoro went back to his original look. They also learned that Big Mom and Kaido formed an alliance and now it will be harder to battle against them. However, Eustass Kidd, Law, and Luffy looked unfazed by this news. The trio's sudden appearance and fighting against Kaido's men shocked everyone. Plus the fighting against Kaid0's soldiers will continue in Chapter 976.
Read One Piece Chapter 976 Spoilers
As of now, they have a total of 5600 soldiers and it looks like some more will soon join them. StrawHat Grand Fleet might arrive in Wano soon to support Luffy. The upcoming chapters of this arc are going to be mesmerizing, starting with One Piece Chapter 976 where the raid on Onigashima will finally start.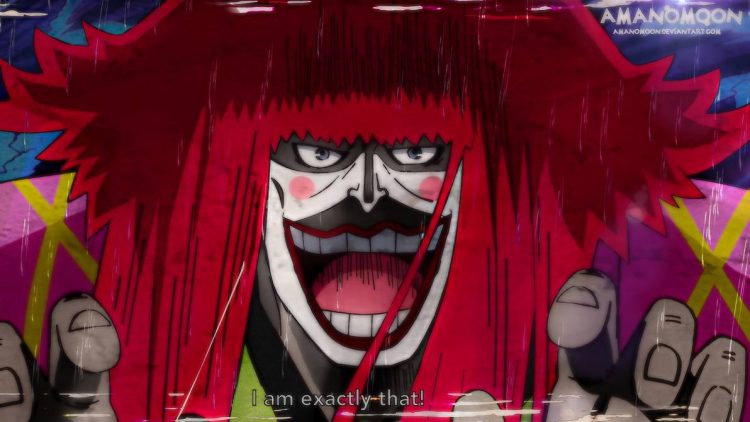 The latest chapters revealed some biggest plot twists in the world of One Piece manga with the reveal of traitors on both sides. Even after, everything went in retainers' favor, Kanjuro still has Momonosuke. One Piece Chapter 976 will reveal what Kanjuro will do in this situation. Will he flee or try to fight against Luffy and co.? In order to, know for sure we have to read One Piece 976 which is going to release after a week.
Also, Read- Kingdom Chapter 637 Spoilers, Release Date
Release Date
One Piece chapter numbered 976 is on a break next week as reported by AnimeFreak, so it will officially release on April 5th, 2020. As it is a common tradition with all mangas, the scanlation will release 2-3 days earlier than the release date.
Read One Piece 976 Raw Scans
The Raw Scans haven't leaked online yet, as we know, the manga is on a week break. One Piece Chapter 976 will arrive online on 5th April 2020 and this means that fans will be able to read One Piece 976 Raw Scans on 2nd-3rd April 2020. The leaks will be updated here once release online.