Everyone loves a good barbeque. There's nothing better than firing up the grill, getting some good steak, and grilling it to perfection. But some people take their love for the grill just a little too far.
Today we're going to take a look at some of the craziest grills that people have used to fire up their meat. If you thought you had some weird grill ideas, just wait until you see some of these pictures. Read on for more.
A Pitchfork BBQ
Have you ever wanted to grill a bunch of sausages at once while also making sure that they all are cooked exactly the same to perfection?
If so, then maybe you can take a leaf from this griller's book. This man had the bright idea to skewer all of his steaks on a pitchfork to cook them evenly over the grill.
This is pretty ingenious since all of the steaks will be cooked exactly the same!
Don't Try This at Home
No, seriously, please don't. Apparently, the person behind the camera was really desperate to get a fire going and had nowhere else to grill, so they used an… old toilet.
We can only hope that they ended up not cooking anything here. Not only did they start a fire in the porcelain throne, but they also used the reservoir of the toilet as a cooler box to keep their drinks cold.
We definitely wouldn't recommend following this person's example. Yuck!
Grill on the Go
Sometimes you just want to bring your barbeque with you. Well, that's exactly what this person did, and they achieved their goal by attaching a functioning grill to their car.
That's pretty clever, don't you think? The grill is attached to the car's rear bumper and folds out.
It's got all of the bells and whistles to let you grill whatever your heart desires, and we think this would make the perfect accessory for those who love to camp.
Long Distance Barbeque
This next one just seems impractical, but it involves collaboration, so props to that. These folks are all enjoying a nice barbeque from a bit of a distance.
This is definitely not the most practical grill out there. As you can see, everyone has their own sausage attached to an extra-long skewer, and they're all grilling at the same time.
Sure, it's certainly not a conventional grill, but it does what all BBQs should do – bring people together.
A True Fan
We all know someone that is such a fan of something that they find ways to incorporate that thing into every aspect of their life.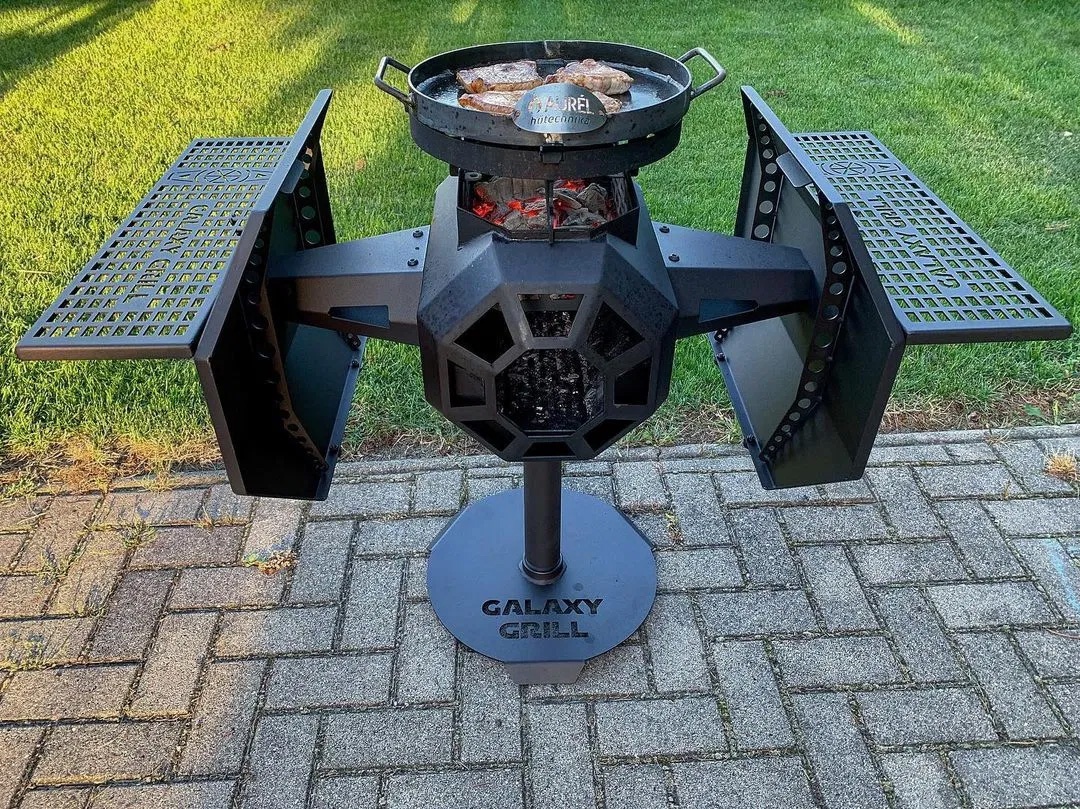 Well, judging by this grill, it's clear to see that this person is a fan of Star Wars. Do you think this person supports the Galactic Empire?
Whatever the case may be, their love for a galaxy far, far away knows no bounds. Who knows what else in their life is Star Wars themed?
Convertible Cart
Well, this is definitely one way to upcycle. This person had the bright idea to transform a shopping cart into a grill that can be rolled around.
We don't want to know exactly how they managed to secure a shopping cart, though. Look, you can even store some extra wood at the bottom of the cart for when you need more fire fuel in a pinch.
While this is clever, it does seem a little strange and impractical. But, if it's stupid and works, it's not stupid.
A Vintage Twist
Are you a fan of grilling? Do you love the Industrial Revolution? If so, then you are sure to love this next weird and wacky grill, which seems to replicate some old motor or bicycle from decades past.
The grill is fully functional, and whoever made it must be really proud of it, given how shiny and polished it is.
This is definitely one of our favorites. Do you think it whistles like a steam train?
Recycling at its Finest
Gamers are known for being resourceful, and considering just how much PCs can cost, we aren't surprised that this dedicated griller decided to turn their old PC into a grill.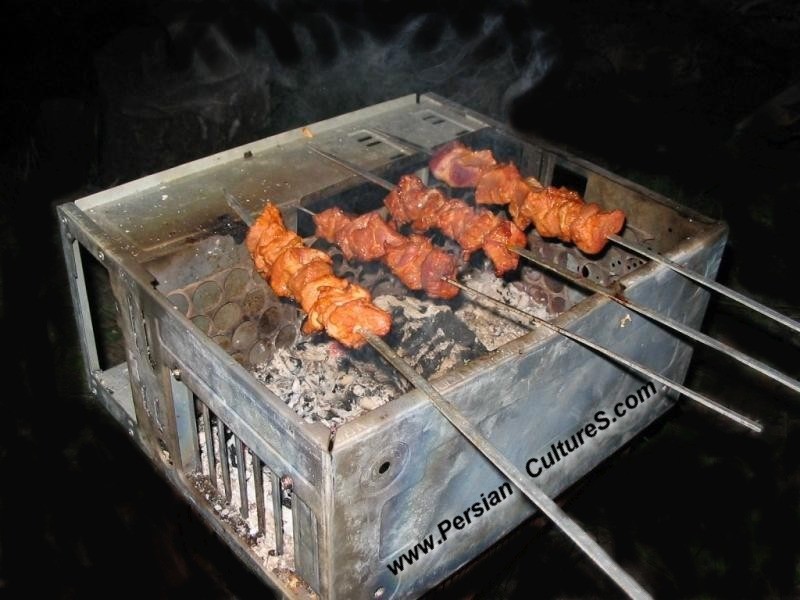 This is the epitome of recycling. So if you have an old PC case lying around in your home somewhere, and you desperately want a grill, consider converting that old hunk of metal into a barbeque!
It clearly works, and there are even built-in skewer 'holders' for your convenience.
Smoke on the Water
This is probably the perfect grill for those scorching summer days. What could be better than chilling in the water while frying up some good old steaks? Nothing!
Water babies and grill lovers rejoice at this fine invention. There are even taps built into the bottom of this grill for you to pour out your favorite drinks as you float.
This is honestly a great invention. Just try not to splash around too much, or you could end up with wet steak!
A Cute Conversion
The Venn diagram of car lovers and dedicated grillers would just be one circle, and this next entry is proof.
This person had the bright idea to convert this old model of a car into a fully functional grill, complete with stands. There's clearly a lot of space on this grill. That's 18 sausages and 2 burger patties.
Just imagine how many steaks you could fit on there at once. A lot, probably! If you've got something similar to this lying around at home, don't be afraid to convert it into a grill.
Raking in Those Sausages
No, literally. This person decided that individually flipping each sausage to make sure that they cook evenly just wasn't good enough.
So they skewered a sausage on each of the prongs on this rake, and apparently, it works. If the pitchfork wasn't good enough for you, then we're sure that this will satisfy your desires.
This probably makes grilling sausages so much easier – just make sure you're using a metal rake, or you might end up eating plastic. Gross!
Getting Meta
This next grill honestly makes a lot of sense. Most of the time, you are cooking steak and other beef products on the grill, so cooking them on a cow-shaped grill doesn't seem too far-fetched. Does it?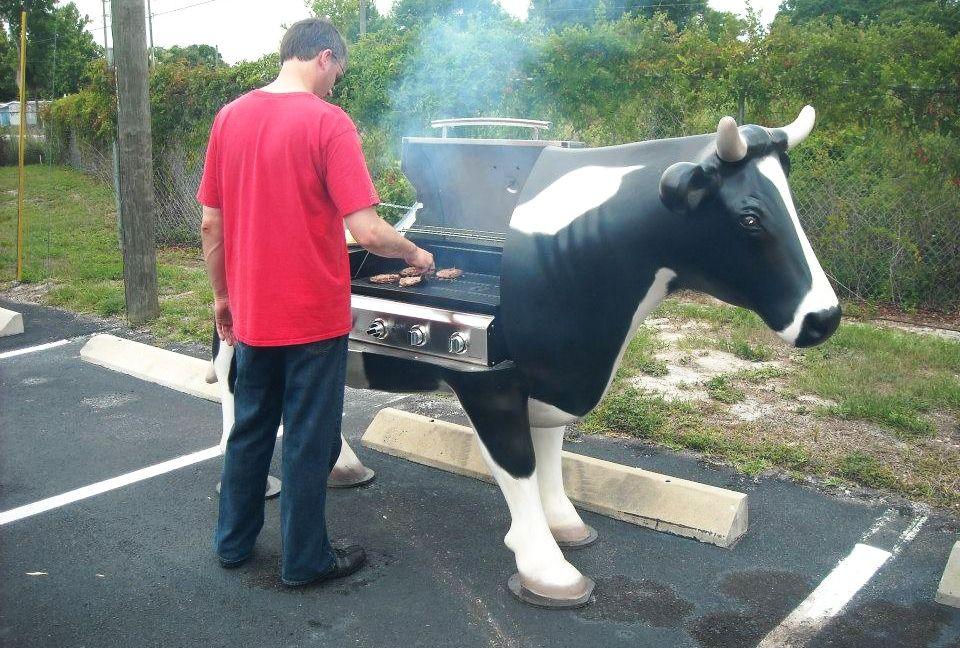 Sure, you might have a lot of questions about the grill itself, but what about the grilling location?
This person is clearly in a parking lot. Why? What is he up to? What are his goals?
Rolling Grill
Sometimes you need to move your grill in a pinch, whether it's because of bad weather or you're getting smoke in the house.
Well, moving won't be a problem for this person, who converted a wheelbarrow into a functioning grill. We wouldn't recommend wheeling this grill around when the fire is roaring, though.
You might end up burning yourself, those around you, and probably your entire yard. Best wait until the flames die down a bit first!
A Rustic Approach
While this is another wheelbarrow grill hybrid, it is a little less mobile. Sometimes rustic looks better, especially in the case of grills, since it adds to the whole outdoorsy, one-with-nature appeal.
At least we think it does. Whoever made this grill definitely loves DIY projects, but they might not be the best at them.
It looks like there's barely anything holding this BBQ together, but hey, it clearly works. Don't fix what isn't broken, as they always say.
Barely a Grill
To be honest, it looks like this grill could fall apart at any moment, and that's saying something, especially compared to the previous entry.
Also, you'll want to make sure your steaks are big, or they might slip right through. Okay, we're being a little harsh.
This grill clearly works – look at that beautifully cooked piece of meat. The actual metal grilling tray clearly held up just fine. Once again, this is a case of 'don't fix what isn't broken'.
Another Star Wars Fan
Apparently, all Star Wars fans that love grilling are fans of the evil Empire. And we don't blame them – the Empire has some cool technology, like the AT-AT, which this person based their grill off of.
Now, this is an impressive grill. The detail is incredible, and we wouldn't be surprised if this thing could actually walk.
The lid folds up and down to conceal the actual grill, and all in all, this is a very cool piece of work.
When You Want it All
Who has time to grill things separately? Why not just throw everything on the BBQ at once so you can enjoy all of your food at the same time?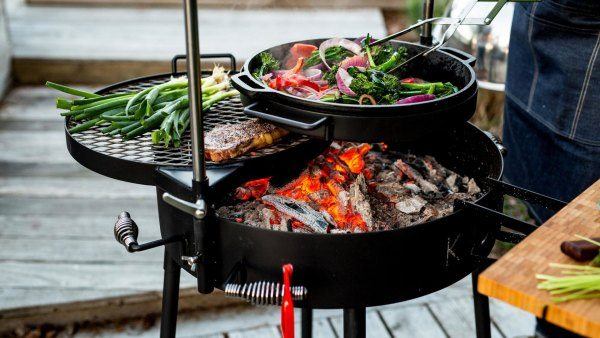 Well, this person has the right idea. This would be a great grill if you have some vegetarian friends.
You can cook their food on one tray and cook the rest of the meat on another. It's a win-win.
Too Much…?
Speaking of wanting to cook everything at once, take a look at this final entry.
It's another shopping cart grill, but this time the person has used every inch of the cart.
Honestly? It's genius. They've got everything going – nobody's going hungry at this cookout. It might be a lot to manage at once, though, don't you think?
Summary
BBQing is great fun and is a fantastic way to bring people together, but some people just take it too far.
What do you think of these weird and wonderful grilling innovations?