Hello viewers, Today I will be giving my reviews about the K-drama Fight My Way which is also known as Third-rate my way.
Genre: Slice of life, Romance
Profile:
Drama: Fight for My Way (English title) / Fight, My Way (literal title)


Revised romanization: Ssam, Maiwei

Hangul: 쌈, 마이웨이

Director: Lee Na-Jeong

Writer: Im Sang-Choon

Producer: Moon Joon-Ha

Network: KBS2

Episodes: 16

Release Date: May 22 – July 11, 2017

Runtime: Mon & Tue 22:00

Language: Korean

Country: South Korea
Cast: Park Seo-Joon as Ko Dong-Man, Kim Ji-Won as Choi Ae-Ra, Song Ha-Yoon as Baek Seol-Hee, Ahn Jae-Hong as Kim Joo-Man.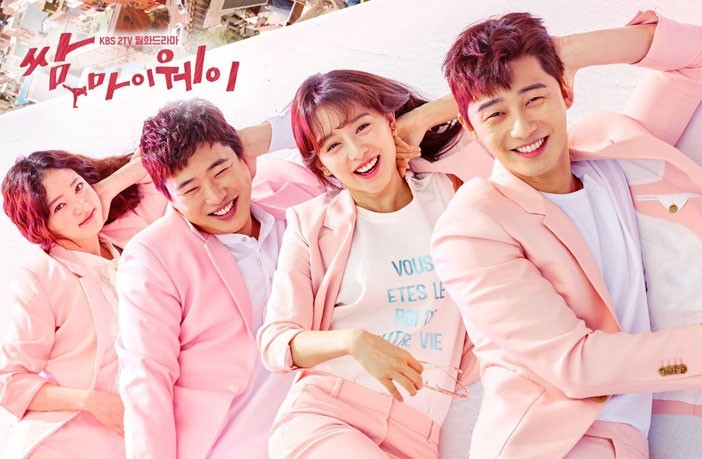 Summary: This drama was aired in the year 2017 and it has 16 episodes in total. This drama tells the story about 4 friends who try to accomplish their dreams even though there are Hardships in the way.
Review: According to my point of view I think this drama is good to watch as it makes us realize what is the importance of dreams and why it is important to have a dream or goal in our life and this drama tells us that and what hardships we face while accomplishing our dreams.
I have no regrets watching this drama as the cast did a very good job and while watching this drama I didn't think for any moment that it was boring or they were extending the drama in any way.
Awards:
2017 KBS Drama Awards – December 31, 2017Excellent Actor (mini-series) (Park Seo-Joon)

Excellent Actress (mini-series) (Kim Ji-Won)

Best New Actor (Ahn Jae-Hong)

Best Supporting Actor (Kim Sung-Oh)

Netizen Award (Park Seo-Joon & Kim Ji-Won)

Best Drama OST

Best Couple Award (Park Seo-Joon & Kim Ji-Won)

2017 (10th) Korea Drama Awards- October 2, 2017, Excellent Actress (Song Ha-Yoon).
Rating: My personal rating for the Fight My Way would be 8/10.
The rating given by Google are 8.2/10 (4 stars).
If I made any mistakes or this review helped you in any way please feel free to comment below.