Eden's Zero Chapter 14 Spoiler and Release Date
Hello, everyone! In this post, I'll be talking about Eden's Zero Chapter 14 spoilers and release date. As you all know this article contains major spoilers, therefore I suggest you should leave before you get spoiled. If you don't mind being spoiled you can continue on this article. Enjoy!
Name: Born Once Again
Release Date: October 3rd, 2018
Summary: If you haven't read the previous chapters, here's what has happened until now. Shiki, Rebecca, and Happy set out in the search of Mother, the Goddess of space. Because the Mother exists beyond Sakura cosmos, they needed a bigger and more powerful ship. So, they went to professor Weisz who lives on planet Norma. After reaching Norma, they find out that have been somehow teleported 50  years back in time. There they find the much younger version of Weisz and a small anti-android robot named E.M. Pino, whom they have to fight for against Sibir, the leader of a gang of criminals. As they try to escape the planet and unknown force field blocks their path. The younger Weisz uses his ether gear then to remodel the ship in real-time.
As they escape the planet, Rebecca gets a call from the older Weisz who tells her that they haven't traveled through time. Actually, Norma's time had been eaten away by a Chronophage, time eating monster. So, whatever you do, Norma is going to stay 50 years back in time. As they lose the signal again, they find a huge ship just behind them. It's the space pirates, run by Elsie Crimson. They had taken control of all the motor functions of the ship. Elsie literally sucks the smaller ship into the bigger one and greets them saying that she will sell them to a planet which is famous for illegal stuff. Shiki meanwhile gets an idea. He challenges Elsie that he will capture her ship. She challenges him in return to try to find her.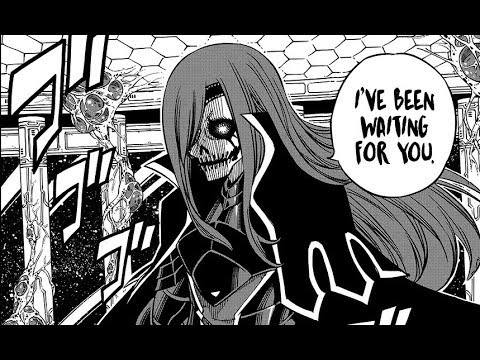 As he runs after her, humanoid creatures who have been infected by parasites come after all of them. They set themselves free using one way or the other. Finally, Shiki reaches Elsie's chamber and finds that she is a skull human. They get into a really big fight. She constantly tells him that she is the successor of the Demon King, Shiki's grandpa. This takes him back to his old days when he used to try to defeat his grandpa. This gives him a resolution that he will not let her win and lands a solid punch on her. Meanwhile, the Star System Alliance Force(SSAF) have arrived to capture Elsie. They notice an unknown ether field that does not belong to Elsie and is exactly similar to the late Demon King.   
Eden's Zero Chapter 14 Spoilers

Because the SSAF have detected the ether field of the Demon King they will definitely come to investigate. Elsie has also been defeated which makes it easy for the SSAF to capture her. It has also been revealed that Demon King also desired to meet the Mother which solidifies Shiki's resolve even further. SSAF might have more information on how to reach Mother and that might act as fuel for Shiki's mission. So, we will be able to see much more action in this respect.
We will see how the SSAF will take along Elsie Crimson & also Shiki taking over the huge ship to meet Mother. Meeting Mother seems quite tough & hence expecting a lot of adventure from the upcoming chapters.      
The writer of the article "Eden's Zero Chapter 14 Spoiler and Release Date" is Gitanjali Mishra. Connect with her on Facebook.